Brand new "Lucid Dream" powder has you sleeping like a baby… every single night!
Brand new "Lucid Dream" powder has you sleeping like a baby… every single night!
Try Noobru Lucid & wake up rested tomorrow...
Stimulate the "fantasy world" of Lucid dreaming

Calms and relaxes your brain for a full night of restful sleep

Wake up fully rested and ready to attack the day

Helps to naturally reduce stress

Helps you to remember your dreams
What a difference a good nights sleep makes!
"Awesome! I only bought a month's worth as I was unsure if it might bother my system or if it could truly have positive effects in all the ways it says on the site, but it truly has. From day one I saw results. I've slept fantastically, I feel happier, with more energy throughout my day and my memory and mental process has improved too! What a difference a good nights sleep makes!"
Scott A.

Experience Lucid Dreaming
with Noobru Lucid
"This little potion packs a punch on account of being stacked with optimized doses of rigorously tested ingredients to boost brainpower and lift mood."

– Sunday Express
Skyrocket REM sleep by as much as 30% overnight
Cognitive decline can begin any time after the age of 50. But Noobru's 11 active ingredients give you everything you need to help keep your mind performing at its maximum level.
Remember your dreams... without feeling tired the next day
Noobru lets you stop walking into a room and forgetting why you came there. It helps to keep you from forgetting people's names, and from repeating the same stories over and over again.
Potentially improve sleep quality by as much as 1000%?
Noobru helps to boost and strengthen the mental processes relating to the acquisition, storage, and retrieval of information. Cognition is an essential part of learning and remembering new tasks and experiences.
TRY NOOBRU NOW
Noobru has been making waves for it's doctor approved products since 2020...
"A delicious blend of clinically-studied ingredients designed to boost mental clarity and focus – so you can tackle your day ahead!"

- OK Magazine
Mix one sachet of Noobru Lucid with water, shake/stir thoroughly and drink a few hours before bed
Thanks to our unique "Lucid Blend" of sleep and dream aiding ingredients you'll experience a full night of dream filled sleep

Wake up the next morning feeling 100% refreshed and ready to attack the day
Noobru Lucids "Lucid Blend" has been developed with doctors to give you the best night's sleep possible
To Promote Better Health
Working hand-in-hand with medical doctors, 18 ingredients were discovered and combined into the perfect synergistic formulation based on extensive scientific research and studies to create the most effective sleep boosting support system.
Each ingredient was hand selected for its powerful sleep & dream aiding properties to create an environment that gives you the most restful nights sleep possible.
Noobru is a genuinely tasty and refreshing blend of nootropics-compounds known to boost mental clarity and focus, and promote a calm state of happy relaxed alertness – ideal for anyone who wants to continue operating at their best in difficult times.
– The Guardian

Dream boosters
69,200+ Studies
Huperzine A

Passion Flower

L-Tryptophan
Escape to your 'dreamworld' with ease and feel rested
Sleep boosters
213,185+ Studies
Humulus Lupulus

Chamomile

Magnolia Bark

Vitamin D

Montmorency Cherry

Valerian

Magnesium Glycinate
Improve sleep quality and wake up feeling rested every single morning
Destressors
2,680+ Studies
Holy Basil Leaf Extract (Tulsi)

L-Theanine

Ashwagandha
Destress your mind and body for calmness & relaxation
"Helps me sleep through the night!"
Hear Antonia's Story:
I've never been someone to sleep consistently through the night, I'll always wake up just to turn over and go back to sleep - but this'll happen multiple times a night. Since taking NooBru Lucid I now don't wake up at all! Which means I find it much easier to get out of bed in the morning, having had an unbroken sleep. I just take one of these instead of the recommended two, and that works great for me.
Amplified synergy gives you up to 260% better results...
"The natural ingredients in Noobru Lucid work together in synergy within a convenient, easy-to-use affordable powder supplement to boost focus, concentration and memory"

- Natural Products Online
When all 18 of the ingredients in our "Lucid Blend" are mixed in the right quantities...
...they multiply together to produce a FAR more restful night sleep than they could individually...
It works similar to this:

Ingredients on their own: 2 + 3 + 4 = 9

"Lucid Blend" of ingredients in correct quantities: 2 x 3 x 4 = 24

That's a difference of more than 250%!
Sleep better... as early as tonight!
With only the highest quality natural ingredients
Each of the ingredients in Noobru has been rigorously tested to ensure the highest quality and effectiveness. 100% vegan-friendly, gluten-free, and contains no common allergens. Drug & Chemical Free – Noobru is 100% non-addictive, safe and approved for long-term use.
LOVE Noobru!! Better than my morning coffee ☕
William A.

After a night out with some friends... I woke up with a killer headache and was a big hungover. The only problem was I had a huge team meeting that morning I absolutely could not miss!
I took a dose of Noobru and made my way over to my meeting.
By the time I got to the office, I felt myself (my brain mostly) being very calm and relaxed. To my surprise, I had one of my most productive meetings I've had in a really long time. My thoughts and ideas had clarity and felt like I normally would if I had a full night's sleep and woke up well rested.
I'm definitely going to be re-ordering! Thanks Noobru!
Easy & Delicious Delivery
No More Hard To Swallow Pills
Noobru is delicious and easy to drink so you don't have to fight choking down those massive horse pills anymore. Not to mention that Noobru is easier on the stomach compared to pills/tablets that can be harder on the body and difficult to digest.
TRY NOOBRU NOW
Using Noobru is EASY & Tastes Great!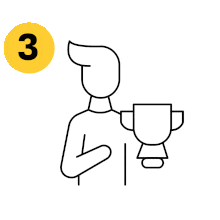 Superior Absorption
For More Effective Results
The absorption rate for Noobru™ FAR surpases the absorption rate for supplements taken in pill/tablet form. Pills/tablets absorption rates are just a measly 39% while Noobru powdered servings have a massive 98% absorption rate.
All Designed To Give You The Most Effective Brain-Boosting Formula Ever!
TRY NOOBRU NOW
What People are Saying About The Noobru™ Lucid
Experience a full night of restful sleep every time your head hits the pillow with Noobru Lucids "Lucid Blend"
To be at your best you need rest… and to be rested you need a good night's sleep. Try Noobru Lucid today and experience the results first-hand.
Grab Your Noobru and Gain the Advantage Today
TRY NOOBRU NOW
Covered by our 30-day "Down to the last sachet" Guarantee!

There's zero risk with trying Noobru Lucid today, because you're covered by our rock-solid "down to the last sachet guarantee.
Try Noobru Lucid for 30 days and if you're not experiencing a significant improvement in your sleep quality just return for a full refund. No questions asked.
With Your Help, Our Mission Is:
To Fortify 1 Billion Meals by 2025
1 in 3 child deaths globally are caused by malnutrition. That's why we're working with Project Healthy Children, who work with millers to add critical nutrients to flour as it is milled. Lives are saved and children can grow up healthy and strong like they deserve.
What part do Noobru™ users play in this? Every purchase of Noobru™ will fortify a child's meals for a year. That's a very tangible difference!
TRY NOOBRU NOW
With your help, so far we've fortified meals for malnourished children.
Hear Others Rave About Noobru™
Ian G.

Worked better than others I've tried
"I've tried a lot of 'solutions' for poor sleep quality and this is the best I've tried by far. I'm not saying they're magic, but they've definitely helped me get better sleep. I feel far more rested when I get up now"
Peter A.

Making a difference (in a good way)
"After really suffering with lack of sleep for a while I came across these. The reviews seemed generally very positive and I gave them a try. A few weeks in, I feel much calmer and more relaxed when winding down in the evening. I've been dropping off to sleep quicker, and returning back to sleep more easily when I wake up. Really pleased with these and have ordered a second batch!"
Jessica T.

Really helped me sleep
"I barely ever have dreams that I can remember because my sleep quality is so bad. The first night with Lucid I had a flying dream for the first time since I was a kid! These have been great for me so far!"
TRY NOOBRU NOW