Noobru Advantage
What if every day could be you at your best? Sharp focus, clear thinking, a quick mind and a happy, relaxed alertness that's ready to take on your day? That's what we wanted, so that's why we created Noobru™, to give the brain everything it needs to unlock its peak performance.
YES! I NEED THIS
4.6 out of 5 star reviews
Noobru™ has been making waves internationally since its launch in early 2020:
11 Great Reasons To
Choose Noobru™ Advantage
We rigorously selected the 11 active ingredients in Noobru™, and worked with medical doctors to fine-tune the optimal doses to create the most effective yet delicious-tasting formula we're proud of—a synergistic blend far more potent than the sum of its individual parts.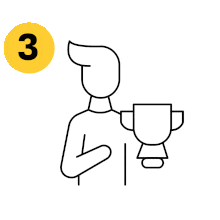 Noobru delivers
Quick Postage

No Need To Sign

Plastic-Free
Packaging

Hassle-Free
Returns
How Much Advantage Do You Want Over Your Competition?

"After trying NooBru I have felt more energetic especially during the morning times. I have found nooobru to be beneficial during gym time."
Tracy P★★★★
Ingredients
INGREDIENTS
PER SERVING
% NRV*
Customer Reviews
Write a Review
Ask a Question
04/07/2022
Lydia T.

United Kingdom
Great energy
I am struggling with various health issues and this year my energy level has been so low, I really was not functioning. Noobru Advantage has changed that. I really like that I am taking something natural and because it tastes so nice, I know I will keep it up and it has the advantage that way of making you more hydrated. So simple to use and convenient. I am travelling in a couple of days and already have these in my case and my hand luggage so that I can add it to my water post security check in and while away. Great product.
22/06/2022
Judith K.

Australia
Feedback
As it has only been 3 days since your product arrived it is a bit early to be commenting so far so good
22/06/2022
Stephanie G.

New Zealand
Wonderful Product
I have felt amazing on this journey. I am 76 and have never felt this good for a very long time xxxx
21/06/2022
Martha R.

United Kingdom
Martha
Been giving to my husband who has short term memory loss he has been taking for 3 months now and he has more energy and is definitely better than he was I have started taking it myself and definitely have more energy especially as I exercise 7 times a week and I am 76!!
20/06/2022
Greta F.

United States
It Really Helps!
My performance at work has improved. My accuracy, focus and overall attention to detail has increased. I couldn't be happier with this product.
Hi Greta , We're happy to hear that Noobru has made a great difference in you. Thank you so much for sharing. :) It would be amazing if you would also leave us a review on our social media pages too. Reviews help our business build an online presence and your valuable feedback will help us improve and make a huge difference to our company. Facebook: https://www.facebook.com/noobru/reviews/ TrustPilot: https://www.trustpilot.com/review/noobru.com Once again, thank you for taking the time to share your experience. We appreciate your support and hope to keep hearing about your results with Noobru! :) If you have questions or concerns about the product we are happy to help. Kindest regards, Noobru support Team
17/06/2022
Prakash S.

Canada
17/06/2022
Sally T.

Australia
Sally Tattam
I have found noobru has done wonders for my memory which was getting to be a problem. Thank you for your product.
16/06/2022
Marianne A.

United Kingdom
Feeling sharper
Pleasant to drink, and a gradual increase in acuity over the weeks. I like the change and want more - if I could get back to pre-viral levels I would be very content.
11/06/2022
Urszula K.

United Kingdom
This really works!
I was bit sceptical about it, the whole amazing benefits propaganda! But it works! No lie in what you get out of it ! The product is amazing
09/06/2022
Marg M.

Australia
Time for a clearer mind!!
Great, I noticed an improvement in my clarity and decrease in moments of 'gone blank'. Words don't elude me mid sentence like they used to.
07/06/2022
Margaret R.

United Kingdom
Great clarity
Clarity of mind improved
05/06/2022
Jenny W.

United Kingdom
Wow!
Refreshing and tasty
TRY NOOBRU NOW
Our Mission:
To Fortify 1 Billion Meals by 2025
1 in 3 child deaths globally are caused by malnutrition. That's why we're working with Project Healthy Children, who work with millers to add critical nutrients to flour as it is milled. Lives are saved and children can grow up healthy and strong like they deserve. What part do Noobru™ users play in this? Every purchase of Noobru™ will fortify a child's meals for a year. That's a very tangible difference!
YES! I NEED THIS
With your help, so far we've fortified meals for malnourished children.