Noobru Advantage
What if every day could be you at your best? Sharp focus, clear thinking, a quick mind and a happy, relaxed alertness that's ready to take on your day? That's what we wanted, so that's why we created Noobru™, to give the brain everything it needs to unlock its peak performance.
YES! I NEED THIS
4.6 out of 5 star reviews
Noobru™ has been making waves internationally since its launch in early 2020:
11 Great Reasons To
Choose Noobru™ Advantage
We rigorously selected the 11 active ingredients in Noobru™, and worked with medical doctors to fine-tune the optimal doses to create the most effective yet delicious-tasting formula we're proud of—a synergistic blend far more potent than the sum of its individual parts.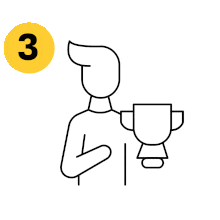 Noobru delivers
Quick Postage

No Need To Sign

Plastic-Free
Packaging

Hassle-Free
Returns
How Much Advantage Do You Want Over Your Competition?

"After trying NooBru I have felt more energetic especially during the morning times. I have found nooobru to be beneficial during gym time."
Tracy P★★★★
Ingredients
INGREDIENTS
PER SERVING
% NRV*
Customer Reviews
Write a Review
Ask a Question
Noobru Advantage
So far so good. Still early days so hope to see more benefits soon. Will update the review then
11/08/2022
Suzanne A.

United States
Love the "Boost"!
I love Noobru and I ordered enough for my husband to give it a try! He is noticing a new clarity in his thinking process just as I am! Thank you for this great product! We are using Advantage Noobru every day and plan to continue until forever. Suzanne
11/08/2022
Anthony M.

United Kingdom
Early days
I suffered from 3 months of memory loss (oct-early jan 2022) from covid. Still struggling with fatigue and fog brain since then. Forgetting almost everything all the time i nearly lost my job in IT Management I started on this just a few weeks ago after trying all sorts of pills potions and remedies I do feel it has some effect and getting back to myself recalling facts and actually able to work. On the 2nd day of not taking it i am retreating back to zombie land Which i was aware of it sooner. Wish it was cheaper too! Only been a few weeks and concerned my brain will get used to it and i get lost in that deep fog again. Hence 4 stars
11/08/2022
Linda D.

Australia
Pleasantly Surprised
I noticed a difference within 3 days . My memory responded quicker. I remembered why I walked into a room until now I always remember. I have been taking it for about 4 months now and recently ordered a years supply. My partner has starting taking it too after seeing the difference in me.
11/08/2022
Leslie T.

United Kingdom
Senior Side of Life
I am on the senior side of life, experiencing brain fog and fatique. This stuff is amazing! Not sickly sweet, nice and refreshing, not to mention it works!!!!!!!!!!!
10/08/2022
Jane B.

United Kingdom
Only one month and I am happy with the result so far
I have taken Noobru for one month and need to order my next month today. I have noticed some improvement. I still do that thing of going to get something and forgetting on the way what I was doing but I now notice that with a pause of a second or two and it comes back. I am also finding it easier to express myself (I was always struggling to find the words) and writing (a book) is flowing again. My brain no longer feels foggy and I am looking forward to further improvements.
09/08/2022
Yvonne B.

Portugal
Amazing results
My memory has improved greatly, I am 80 and had to finish work by 12-30hrs because my energy had drained, I now seem to be able to continue working till 15.30hrs. Thanks to Noobru I have a new lease of life. Something i didn't expect at this age. Thank you Noobru
06/08/2022
Michael H.

United Kingdom
The benefits of proper sleep!
I lost my wife to cancer a couple of months ago and hadn't been sleeping at all well. Now, having just had ten nights of undisturbed sleep, the like of which I don't think I have ever experienced, I'm starting to feel as if I'm ready to face the world again. I might even wash the car..... ;-))
05/08/2022
Sylvia H.

United Kingdom
The best
Very easy to use by keeping it in the fridge and drinking it though out day . And don't have to worry about the tablets.
04/08/2022
Karl T.

Canada
Game changer
I have been using Noobru Advantage every day for a month now. The first thing I felt was a boost in mental energy. Within a few days, it was the speed to recall memories and names. I definitely recommend this product to everyone.
04/08/2022
Carinne F.

Australia
Delicious and Helpful
Noobru advantage is so delicious it's hard to not want more than 1 sachet. Noted it start to free my mind fog after about day 3, helped enough for me to get up and do things and then noted that not taking it over the weekend, the fog creep back in - wish it was something we could do every day.
02/08/2022
Carol B.

Spain
Amazing
I was very sceptical at first but I have to admit I can't believe the way I can now pluck things from my memory, even my partner says how on earth can you remember that. So will carry on using it and hope it will help with my short term memory which was badly affected after a brain haemorrhage. Regards Carol Brown
Our Mission:
To Fortify 1 Billion Meals by 2025
1 in 3 child deaths globally are caused by malnutrition. That's why we're working with Project Healthy Children, who work with millers to add critical nutrients to flour as it is milled. Lives are saved and children can grow up healthy and strong like they deserve. What part do Noobru™ users play in this? Every purchase of Noobru™ will fortify a child's meals for a year. That's a very tangible difference!
YES! I NEED THIS
With your help, so far we've fortified meals for malnourished children.