Noobru Advantage
What if every day could be you at your best? Sharp focus, clear thinking, a quick mind and a happy, relaxed alertness that's ready to take on your day? That's what we wanted, so that's why we created Noobru™, to give the brain everything it needs to unlock its peak performance.
YES! I NEED THIS
4.6 out of 5 star reviews
Noobru™ has been making waves internationally since its launch in early 2020:
11 Great Reasons To
Choose Noobru™ Advantage
We rigorously selected the 11 active ingredients in Noobru™, and worked with medical doctors to fine-tune the optimal doses to create the most effective yet delicious-tasting formula we're proud of—a synergistic blend far more potent than the sum of its individual parts.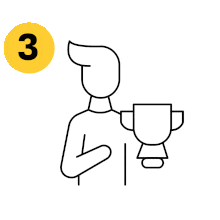 Noobru delivers
Quick Postage

No Need To Sign

Plastic-Free
Packaging

Hassle-Free
Returns
How Much Advantage Do You Want Over Your Competition?

"After trying NooBru I have felt more energetic especially during the morning times. I have found nooobru to be beneficial during gym time."
Tracy P★★★★
Ingredients
INGREDIENTS
PER SERVING
% NRV*
Customer Reviews
Write a Review
Ask a Question
26/09/2023
Mrs E.

United Kingdom
A sleep revelation
I am pleasantly surprised and impressed with this product. I have tried many things to help with a good night's sleep, many of which are ingredients it this product, but the combination and decent strengths have obviously made a difference. I find it easier to drift off. Still wake up a few times but drift back to sleep much more easily.
26/09/2023
Marc W.

United Kingdom
Good experience
The order proces was good and product arrived efficiently etc. My sleep patterns are all over the place and i have had mixed results so far but ot sure I have got mybroutine with it right yet. Great tasting product, better than most fruit drinks I've tried.
26/09/2023
Gill A.

United Kingdom
Starting my Nubroo journey
So far so good My journey is just beginning I will give another comment in a week But up to now Tastes nice Easy to mix 3rd day in using Nubroo To date pleased with start
26/09/2023
Tami D.

United States
More!!!
Felt more awake, more alert and attentive, able to focus and think clearly
23/09/2023
Tina P.

United Kingdom
Working in the kitchen
It took a while and then I started to notice that I was remembering a lot more, which made me feel secure it's a must to try,wish I'd tried it sooner xx
Our Mission:
To Fortify 1 Billion Meals by 2025
1 in 3 child deaths globally are caused by malnutrition. That's why we're working with Project Healthy Children, who work with millers to add critical nutrients to flour as it is milled. Lives are saved and children can grow up healthy and strong like they deserve. What part do Noobru™ users play in this? Every purchase of Noobru™ will fortify a child's meals for a year. That's a very tangible difference!
YES! I NEED THIS
With your help, so far we've fortified meals for malnourished children.